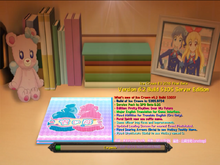 Ice Crown E3 2016 Build 5305 is the E3 2016 Final Beta, It was Released on 2016-06-05.
This Loading Screen has changed on Build 5304, However it was now uses Ichigo/Aoi's Room Background.
Chanegelog for v6.2 Build 5305
Edit
- Build for Ice Crown is: 5305.9734
- Service Pack is: SP9 Beta 0.35
Major English Translation for Game Interface.
Fixed Abilities for Translating English (Orc Race Only)
Feral Spirit now using Suffix Name, called Pre-Final.
Updated Loading Screen for newest Event Photokatsu! (There is Memorial)
Fixed Searing Arrows (Beta) to see Hotkey Tooltip Name.
Fixed Shockwave (Beta) for Seeing Hotkey named O.
Screenshots
Edit
This Video is only Promotional, You will see it's only from Aikatsu Photo on Stage, The Song only uses Blue Strawberry (Aoi Ichigo).
Screenshots
Edit
TBA.