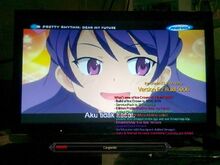 Ice Crown E3 2014 Build 5006 is the E3 2014 Beta, It was Released on 2014-04-28.
The Loading Screen uses Photo of Watching Pretty Rhythm: Dear My Future Episode 10 on Animax, It will uses Build 5007 after changing Loading Screen to Build 5008.
To Download this map, Click here.
Screenshots
Edit
TBA.