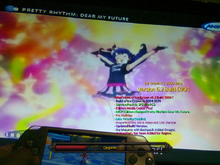 Ice Crown E3 2014 Build 5004 is the 5th Build for Development Reset, It was released 2014-04-26, It will changes Edition Media Center Plus to Pretty Rhythm: Dear My Future Series.
The Loading Screen was changed since it was using Longhorn Big Box Wallpaper on Build 5003, Also this Loading Screen only One Time to use Photo taken watching Dear My Future on Animax.
To Download this map, Click here.
Screenshots
Edit