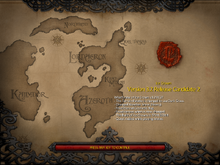 Ice Crown E3 2013 RC2 is the Beta Release, It was Released in May 5, 2013, The RC1 was Created and the Windows 8 Pro was Crashed for downloading Dawn of Mana PS2 using Internet Explorer 10, so it will skips to RC2.
Build 5744.16348 is the Unofficial Build for Windows Vista, However the Prefered Build Official is 5744.16384.
To Download this map, Click here.
NOTE: This is a Debug Build for Testing, There also included Release Build to try it.
Changelog for v3.2 RC2
Edit
The Terrain Palette is changed to use Dark Grass (Lordaeron Summer)
Changed Weather Snow (Light) to Heavy.
Fixed Eternal Cosmetic Bug.
Fixed Heroes, when is now Changed.
Introduced Quest while playing Melee.
Major Changes
Edit
Added Some Units like Spirit Wolf, Workers like any Races and Buildings (Player 1 Only)
Included Some many Items.
New Features
Edit
Screenshots
Edit