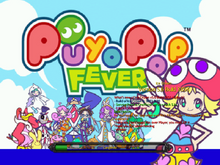 Ice Crown E3 2013 Build 3853 is the Prototype E3 2013, It was Released on 2013-09-29, It will uses Loading Screen was Puyo Pop Fever Test Screen.
Build 3853 was same as Build 3841, It will be additional Fixes some Bugs and Improvements with Features, it will includes Unofficial Service Pack 5.1, which it's for Windows 2000.
To Download this map, Click here.
Screenshots
Edit
TBA.