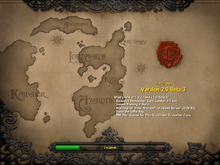 Ice Crown E3 2013 Beta 3 is the Third Beta Release, it was Released in May 4, 2013, This will be Compatible for Windows Server 2008 R2.
This Map Software was expired in October 30, 2013.
To Download this map, Click here.
Changelog for v2.9 Beta 3
Edit
Removed Demolisher Gold, Lumber & Food.
Included Instant Training & Build.
Working for those Microsoft Windows Server 2008 R2.
Fixed little bug.
Major Changes
Edit
Included Build Lady Vashj Unit & Goblin Merchant for Troll Headhunter.
Removed Invulnerable for Peon, Grunt, Raider, Tauren & Troll headhunter.
Removed Great Hall because of Duplicate for Player 1.
Screenshots
Edit