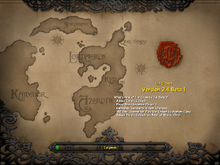 Ice Crown E3 2013 Beta 1 (formerly Ice Crown E3 2013 Beta) is the First Beta Release and started in 2013-05-03. This is the Early Version that started, and the version is 2.4.
The Map was created by Amitie, Since Amitie was changed to Billy Hatcher in 2014. However, this Map was expired in 2013-10-30.
To Download this map, Click here.
Changelog for v2.4 Beta 1
Edit
Added Thrall (Edited)
Fixed Start Location Player 1
Gameplay Constants is now changed.
180 Day License for Play Ice Crown Evaluation Copy.
Added Thrall (Edited) on Altar of Storm (Orc)
Major Changes
Edit
Added some Heroes to Building like Jaina, Arthas, etc. (For Grunt only)
Included Farm (Spell Only) for Minor Area Range.
Added some Units/Heroes for Build Structure like Wisp, Rexxar, Kael, etc. - For Thrall (Edited) only.
Thrall can attack for Invulnerable for Tauren, Grunt, Raider (Which will never reduces HP, removed until Beta 3)